The 1928 Book of Common Prayer
At St. James, we feel that our services are 'church the way you remember it.' Often times we have guests and visitors who inquire about the content and origin of our services. St. James Anglican Church follows the standard order for services from The 1928 Book of Common Prayer. Many Episcopalians are surprised to discover that their current services originated in the 1928 Book of Common Prayer. When asked why we choose to continue usage of the 1928 Prayer Book, we respond simply,
"St. James is about continuation, not innovation."
The beautiful language and dignity of The 1928 Book of Common Prayer remains timeless in a world that is rushing through 'all the changes and chances of this mortal life.' Many have told us there is something special, heartwarming and Holy about the prayers of the 1928 Prayer Book. We agree and welcome everyone to join us as we worship the Lord in the beauty of Holiness.
The Book of Common Prayer (1928), used throughout the Anglican Communion, is a devotional manual by which the worshipper, together with others, may participate actively in the services of the Church. It is a product and development of Christian service books used down through the centuries and also contains portions from the services held in the Temple at the time of our Lord.
Our order of worship is ancient and lovely and is an expression of our attempt through the ages to offer our best to God. If you would like to browse The 1928 Book of Common Prayer, feel free to download a copy of it by clicking the prayer book below. It is available in PDF format.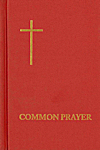 1940 Hymnal
With traditional prayers and services, must come traditional music. At St. James we are blessed to be able to provide the traditional Anglican hymns found in the 1940 Hymnal, Standard Harmony Edition. This hymnal, filled with hymns dating back hundreds of years ago, was made available to all Anglican and Episcopal Churches through out the world up until the late 1970's. When the Episcopal Church discontinued usage of the 1940 Hymnal many churches had to discard, destroy or give them away. St. James is one of (if not the last) Anglican Church in the South East with full services and hymns as directed by The Book of Common Prayer 1928, from the 1940 Hymnal.
The hymns are provided to us by Organist Clyde McLennan in full, majestic pipe organ which is both overwhelming and inspiring. For Morning and Evening Prayer our canticle music, also from the 1940 Hymnal is provided by Organist Beverly Stone. All of the music heard here on St. James website come from the 1940 Hymnal and are played at every service at St. James Anglican Church.